I've been doing a lot of Zoom calls lately—several per day. So it's kind of embarrassing to admit that it took me two months of gazing at my own face on the screen to realize that Zoom automatically filters your skin. Yup, "touch up my appearance" is a default setting in the Zoom app:
---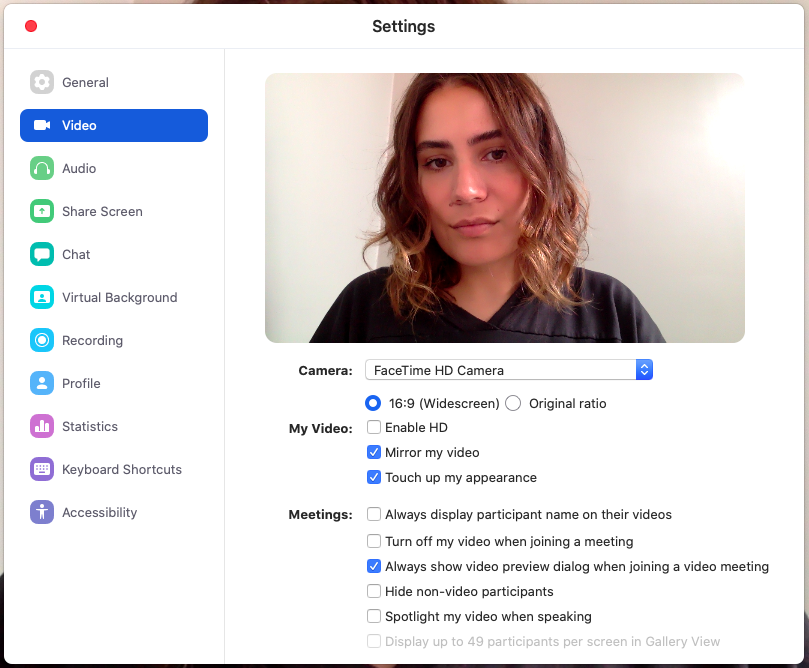 No, my skin doesn't actually look this good. It's Zoom sorcery.
---
---
---
If the checkbox is checked, Zoom digitally smooths out your skin, blurring pores, and softening shiny spots to make you look like you have a perfect cyborg complexion. I've been into no-makeup makeup lately (because, quarantine) but I should have known that my foundation-free skin doesn't actually look this eerily flawless.
---
My discovery got me thinking about products that recreate the Zoom filter offline. The combination of hot weather and self-isolation has made the thought of full-coverage foundation highly unappealing, especially if your contact with other humans is limited to video calls and FaceTime.
---
Tinted moisturizers and light-coverage complexion enhancers feel like the way to go. Sheer products are much more forgivable when it comes to shade-matching—an important point when online shopping is your only option. Here are the products that I love for a hint of coverage that filters out my acne scars, discoloration, and pores—like Zoom but in real life.
---

Charlotte Tilbury Hollywood Flawless Filter, $44
When this little bottle landed on my desk, I wasn't sure what to make of it. Is it a tinted moisturizer? A highlighter? A primer? The answer: Yes. It's basically a sheer complexion booster with a highlighter-like finish that blurs pores and uneven skin tone. Because it has almost no coverage, picking your shade is low-risk, high-reward. I like to apply it all over my face for a dewy glow on zero-effort days, but I also use it as a highlighter on top of my regular foundation when I'm feeling fancy. If wearing makeup sounds like too much, yet you still want a little "oomph," this is it.
---

BY TERRY Brightening CC Serum, $91
When I'm sick, sleep-deprived or nursing a hangover, my olive-toned skin takes on a dull grey, washed-out hue—I call it "corpse face." This luminous elixir is my go-to when corpse face happens. One pump smoothed all over my face with my fingers adds a soft-focus (not-shimmery) glow and neutralizes dullness and surface redness for skin that looks nice and healthy, no matter how ragged I feel inside. As with many BY TERRY products, CC Serum has a noticeable rose fragrance, so be aware if you're sensitive to scents.
---

Hourglass Ambient Lighting Powder, $48
Okay, so what if you want all those color-correcting, glow-boosting effects, but your skin is oily? Hourglass Ambient Lighting Powder might be the answer. This pressed finishing powder creates a diffused glow on the skin while blurring discoloration—all without the dewy, moisturizing feel of liquid and cream products. It comes in six shades that have slightly different optical effects. I like Diffused Light for obscuring surface redness and Mood Light for brightening up my skin when it's particularly dull and sallow. Radiant Light is perfect for adding a subtle tan to lighter skin tones or for a sheer, pore-smoothing finish on darker skin tones.
---

ILIA Super Serum Skin Tint, $46
ILIA's Super Serum Skin Tint is what happens when a serum meets a tinted moisturizer and they have a baby. The texture is liquidy and lightly emollient, making it easy to apply with your fingers for a sheer veil of coverage with a dewy finish. I especially like this tint because it's packed with skincare ingredients I normally use like squalane, niacinamide, and two types of hyaluronic acid. It also has SPF 40, although I always apply my normal sunscreen underneath for better protection. I'd recommend this to anyone who appreciates clean ingredients and wants a sheer-coverage product that actually moisturizes.
---

Kevyn Aucoin Stripped Nude Skin Tint, $42
Next up in terms of coverage is Kevyn Aucoin's Stripped Nude Skin Tint. While still sheer, it's buildable, so I can layer it on top of dark spots and acne scars to make them less apparent. The texture is creamy but lightweight with good slippage, making it easy to blend with just your fingers. It also doesn't sink into fine lines or emphasize skin texture, which is my main gripe with tinted moisturizers. If I need a foolproof, unfussy tinted moisturizer, this is what I turn to.
---

IT Cosmetics CC+ Cream, $39.50
This is the daddy of tinted moisturizers. It has a thick, rich texture that I prefer to buff into my skin with a brush, and it boasts the highest coverage of any tinted moisturizer I've tried. It also dries to a middle-of-the-road finish—not super dewy, but not exactly matte, either. IT Cosmetics recently expanded the shade range to 12 shades to accommodate a wider variety of skin tones, so most folks will be able to find a shade that works for them. A good choice if you want the ease of a tinted moisturizer without sacrificing coverage.